Production Information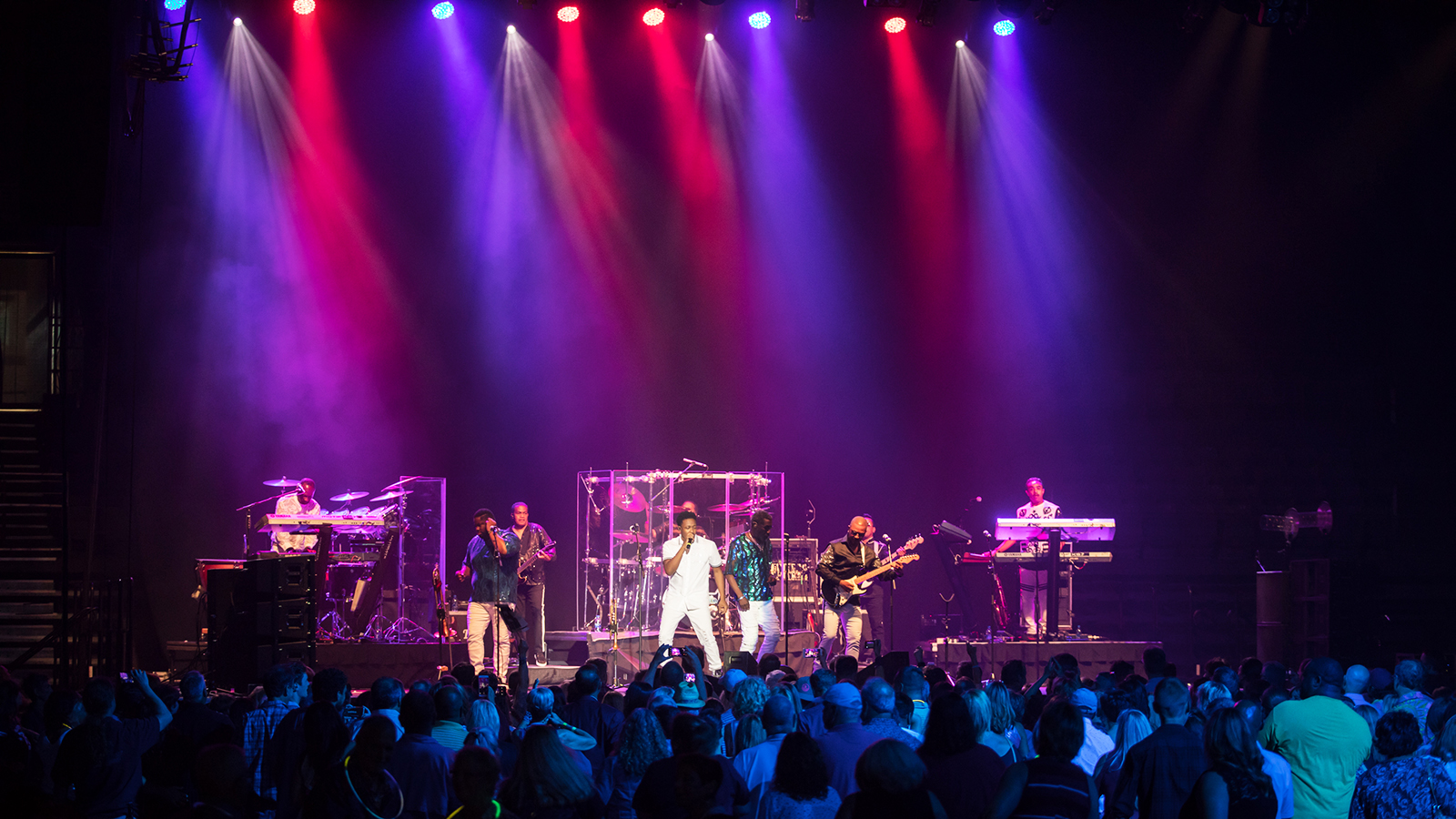 Box Office
The Holmes Center Box Office is located on the street level at the Southwest corner of the building. See Box Office policies for more information.
Cleaning Staffing will be assigned by the Holmes Center management and costs will be recovered at settlement. Event and post-event cleaning is determined by the type of event, the estimated attendance and the areas of the facility used by the event.
---
Communication
The Holmes Center has a two-channel Telex communication system. The power supply can be turned off to allow integration with a show or promoter's system. Contact the Holmes Center's Operation Manager to determine the possibility of frequency interference.
---
Decorations
Any decorations and methods of mounting decorations must be approved by the Holmes Center management.
---
Dressing/Locker Rooms
There are 2 locker rooms, 2 officials' locker rooms, and 1 promoter's office in the Holmes Center. These rooms vary in size and all are available for use during an event. These rooms have access to telephone lines.
---
Dock Spaces
(2) Dock spaces
(1) Ramp into the building
In the process of building a dock webpage.
---
Electrical Power
Shore Power – (4) 30 Amp
Show – (4) 200 Amp
(1) 600 Amp
Production/Satellite power – (3) 60 Amp
---
Elevators
The Holmes Center is equipped with one (1) passenger elevator and one (1) freight elevator. The passenger elevator is for use by patrons with disabilities only. The freight elevator is for use by concessions, merchandise, and janitorial staff only.
Elevator door 4ft. X 6in. wide, 8 ft. tall
Interior of elevator 9ft. tall X 6 ft. 1in. wide X 8ft. 7in. deep.
---
Emergency Equipment
(2) Power Heart AED G3
One is located at section 9 on the concourse outside the first aid room and the other is located at the south entrance to the arena floor on the ground level.
---
First Aid
First aid service for patrons is supplied through the Holmes Center. First aid for competitors is the responsibility of the client. If needed, the Holmes Center can arrange for first responders to provide first aid service for competitors. The first aid station for the Holmes Center is located on the main concourse at section 9. Ambulance units must be allowed to park on or near the loading dock.
---
Floors
The Holmes Center main floor surface is concrete and is equipped with a portable basketball floor. The concrete floor is equipped with electrical, phone, and ethernet. There is a long jump pit and a pole vault pit contained within the floor.
The concourse of the Holmes Center is a Mondo indoor track surface. This surface is used for track meets as well as the general public during events. The remainder of the facility is either carpeted or tiled.
---
Food Service
All concessions and merchandising must be handled through the Holmes Center management. No food and/or beverage can be brought in from an outside source. Catering must be handled through the Holmes Center management by one of the approved caterers.
---
Forklifts
The Holmes Center has one (1) forklift to be used for the loading and unloading of shows. Any other required lift equipment must be ordered from an outside vendor. The Holmes Center's lifts must be operated by Holmes Center personnel at all times.
4.400 load capacity at 24in. load center (with 2 extenda-forks)
(1) Man Lift JLG 41AM with weight load of 300 lb.can lift up to 41.8 ft.
---
Giveaways/Distributed Items
All giveaways must be approved in writing by Holmes Center management. Giveaways and/or distributed items will be handed out upon exit only, unless approved by Holmes Center management. An extra fee will be incurred for any giveaway that generates excessive trash (such as individually wrapped items). This fee will be charged to the client at settlement.
---
Keys and Locks
All locks to the dressing rooms are on a removable core system that can be changed for events. Keys to changed locks will be given to the client and will be the client's responsibility. If keys are not turned in at the conclusion of the event, the client will be charged $40 per key. Please see the Operations Manager if locks need to be changed.
---
Licenses/Permits
It is the responsibility of the client to secure any and all necessary licenses and/or permits that are required in relation to their event.
---
Lighting
Holmes Center staff will control lighting levels at all times.
2 Lightronics 12 channel dimmer packs
Leprecaun 28 channel Light Control Board
ILC House Lighting System
---
Lost and Found
During events, lost and found will be located at the Security Office on the second level or call the Holmes Center Main Office at (828) 262-7890 Monday-Friday from 8:00 am-5:00 pm.
Move-In/Move-out
Move-in and move-out of an event should follow the dates and times specified in the contract. Any changes to this schedule should be approved by the Holmes Center management. If such a change has not been approved, a penalty in the amount of $500.00/hour shall be charged to the client.
---
Production Office
10ft X10ft. Between loading dock and arena, Wireless and Wired internet, 3 phone lines.
---
Pyrotechnics
The Holmes Center does allow pyro under the following conditions:
The production must have a licensed pyrotechnician
The promoter must supply an additional insurance policy for the pyrotechnics
A permit from the local fire marshall and university safety office must be obtained
---
Radio/TV Broadcasts
Exterior location must be determined by Holmes Center staff.
---
Restrooms
The Holmes Center is equipped with six (6) women's restrooms, four (4) men's restrooms and two (2) family restrooms. All restrooms are ADA accessible and are conveniently located around the concourse.
---
Retractable Seating
The lower half of the Holmes Center is equipped with retractable seating. This provides the Holmes Center with the ability to convert into many different set-ups.
---
Rigging
The rigging grid and catwalk system in the Holmes Center can support up to 100,000 pounds. The rigging grid is 58ft. from the floor. There is absolutely no rigging from the speaker cluster. All rigging is subject to approval by the Holmes Center staff.
---
Safety-OSHA Guidelines
All events in the Holmes Center shall adhere to all OSHA regulations. Main mix line-level signal required for the hearing-assisted listening system.
---
Scoreboards
Datronics Display with 5000 series console.
---
Shipping and Receiving
Shipments will be received at the Holmes Center from 8:00 a.m.-5:00 p.m. on Monday-Friday. Anything arriving after 5:00 p.m. will be declined drop-off until the following business day.
---
Sound System
Main P.A. in Arena only
Cabinets (RMS of 300 watts, frequency range 50htz-20khtz, 15 in. High-Q 60 degree X 40 degree, constant directivity horn with DH2010A driver)
Subwoofer (Yorkville LS608 elite)
(2) MACRO2400 Amplifier (575 watts per channel)
(1) Altec/Lansing 9444B Amplifier (frequency range 10htz.-90htz., bridged at 8 Ohms750 watts
Complete Equalization and Loudspeaker Control System (DriveRack)
Samson 4 Channel compressor Gate
microphones: (6) Audix, (4)ShureSM58, (3) Shure BETA 58A (6) AKG C3000, (2) AKG C418, (1) AKGD112, (2) Wireless
---
Spotlights
Lycian 1290 XLT (7)
ETC Source Four 750 (9)
ETC Source Four 750 small (7)
Par Cans (25)
---
Staging and Risers
The Holmes Center uses StageRight brand staging equipment. The staging inventory contains (36) 4ft. scissor braces, (2) Sets of stairs, (20) 4ft. stage barricades, (1) ADA accessible ramp, (134) 4ft X 8ft. platforms, (16) mix platform risers.
Stages heights can be between 12in.-24in. tall, or between 48in.- 76in. tall depending on the type of braces used.
---
State Fire Marshall Regulations
All events conducting business in the Holmes Center shall adhere to all State Fire Marshal regulations.
---
Storage
The Holmes Center is not responsible for items left or stored in unauthorized areas. Any items left at the Holmes Center will become the property of the Holmes Center.
---
Telephones
The Holmes Center is not equipped with house pay phones for patrons to use. Each locker/dressing room is equipped with phone lines as well as areas of the arena floor. Most of these phones lines, however, are not activated. None of the phone lines will be equipped with long distance capabilities. In order to activate a phone line, contact the operations manager and the cost for activation will be added at settlement.
---
Utilities
All normal utilities for the operation of the Holmes Center, such as lights and A/C or heat are included in the Arena's rental fee. All specialty needed utilities, such as show power, tour bus power, or water and drain requirements will be charged to the client during settlement.
These policies supplement all University policies governing University property and facilities.