History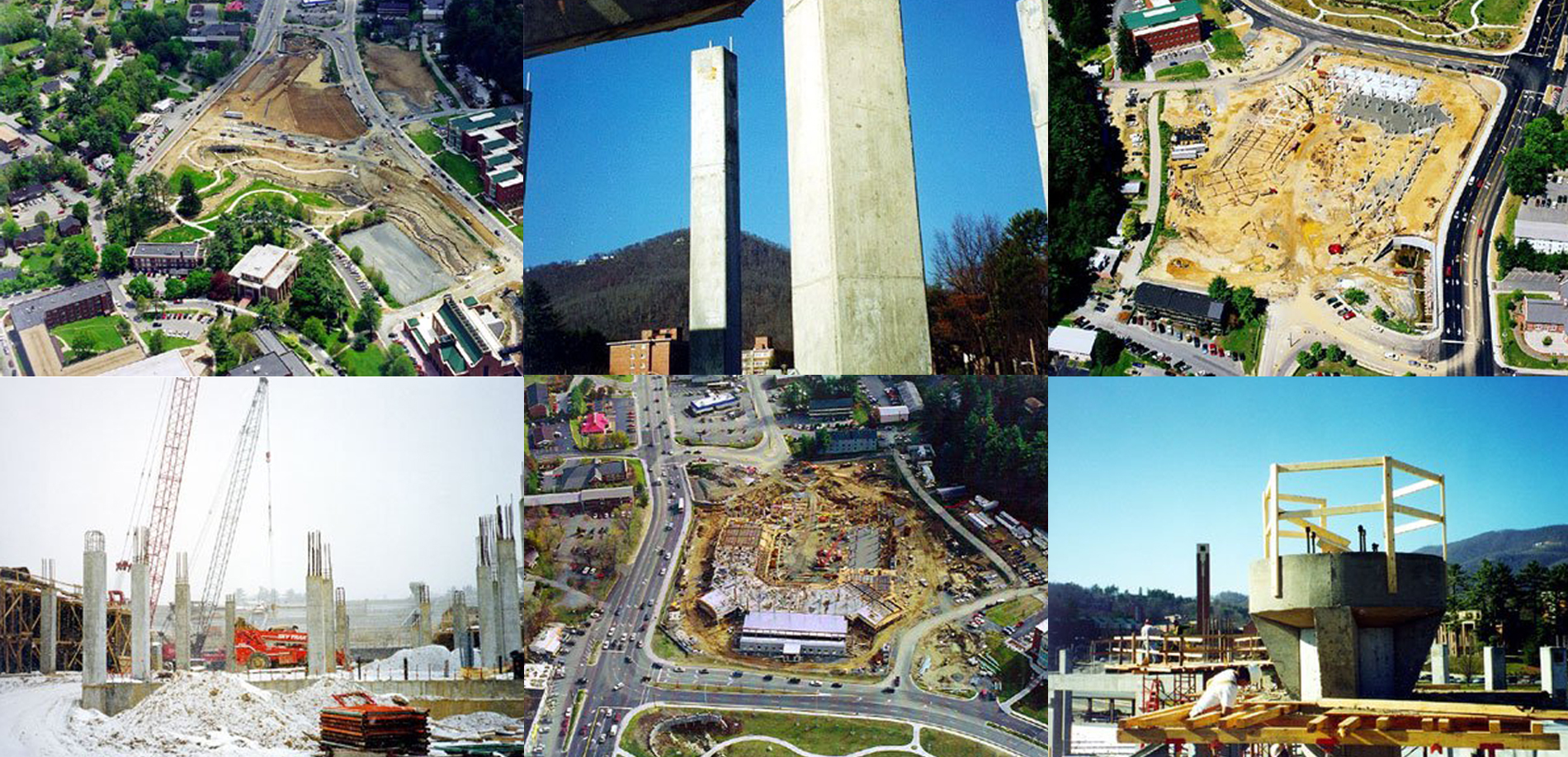 The History of the George M. Holmes Convocation Center and the Seby Jones Arena – 15 years in the making
It took almost 15 years to build the George M. Holmes Convocation Center. In 1986, Appalachian State University officials began exploring ways to enhance academic offerings within its department of health, leisure and exercise science and renovate Varsity Gym.
Built in 1968, the gym was designed as a multipurpose facility to serve the campus's 5,500-student population. As the university's enrollment grew and student interest in the department of health, leisure and exercise science increased, the building no longer met the university's academic or recreational needs.
In mid-1987 university officials met with N.C. Rep. David Diamont to discuss renovating the gymnasium. Appalachian received $300,000 from the General Assembly to plan the building's renovation. However, after determining that the project would cost more than $12 million, legislators recommended that a new facility be constructed.
In 1994, with the support of Diamont, Rep. Wade Wilmoth, Rep Andy Cromer, Sen. Sandy Sands, Sen. Fred Folger and others, the Legislature appropriated $9.75 million to begin construction of a student activity center.
The originally proposed site for the center, above the football stadium on a site now occupied by the university's baseball field, was rejected amid concerns that it would negatively impact an area used for environmental study by several academic departments.
That opposition proved fortuitous for the HLES department. As originally conceived, the student activity center did not include any space for academics.
A broad-based committee was formed in the spring of 1994 to determine what type of facility would meet the needs of the university and region. The committee recommended a facility that would support the university's commitment to excellence in teaching and research; support the university's charge to promote the intellectual, cultural and personal growth of students through curricular and extracurricular activities; and support cultural, educational, recreational and other programs of public service to the local and regional community.
From this report, and the input of faculty and others, evolved the convocation center.
An economic impact study completed in August 1994 indicated that the center's construction could generate $5 million in revenue for Watauga County Businesses.
In 1995, Rep. George M. Holmes gained support for a plan to fund over a two-year period the remaining convocation center costs. The Legislature adopted a funding package allocating $20.6 million in 1995 and an additional $5 million 1997. Combined with a $600,000 reimbursement from the N.C. Department of Transportation for right-of-way grading and reserves held by the university, the project was completely funded.
An engineering study completed in 1995 by Ogden Environmental and Engineering Services reported that the convocation center site, located on portions of the former baseball field near Rivers Street and U.S. 321, would have minimal impact on the town's floodway. A flood mitigation project was developed that opened Boone Creek, created a park near the campus entrance that also serves as a rainwater catch basin, realigned Rivers Street and improved rainwater drainage through a series of box culverts near the new site.
By November 1996, architectural drawings were finalized and in October 1997 bids were awarded for the center's construction.
Ground breaking for the new facility was held in December 1997. Construction began in January 1998. In March 1998, Appalachian's board of trustees named the center for Holmes and the arena for Seby B. Jones, former chair of Appalachian's board of trustees and a longtime supporter of university programs and activities.
The convocation center totals 200,840 square feet, including 48,830 square feet of academic space and will seat between 8,500 to 9,313, depending on the seating configuration used. The building can accommodate conventions, trade shows, concerts and athletic events.
Timeline…
1986 — Student population and HLES department start outgrowing Varsity Gym.
1987 — NC Rep. David Diamont discusses renovating Varsity Gym; high cost leads to plan for the new building.
1994 — NC Legislature appropriates $9.75 million for student activity center; original site above Kidd Brewer Stadium rejected for environmental concerns; committee formed to determine how the center could best serve needs of university and region.
1995 — NC Rep. George Holmes gains support to fund convocation center; legislature appropriates $20.6 million; engineering study says center will have minimal impact on town's floodway.
1996 — Architectural drawings finalized.
1997 — Bids awarded for construction; legislature allocates additional $5 million, based on 1995 funding plan.
December 1997 — Groundbreaking.
January 1998 — Construction begins.
March 1998 — ASU board of trustees names center for Rep. Holmes and arena for benefactor Seby B. Jones.
Fall 2000 — Convocation Center Opens.
---
Convocation Center Advisory Board members are:
Eddie Crawford, center director, chairman
Mark Dreibelbis
Dave Robertson
Jane Nicholson
Vaughn Christian
Mike Evans
Perry Mixter
Bill Cummings
Bill Post
John Cooper
Vaughn Hayes
George M. Holmes: A 'People' Person
The Hamptonville resident represents Alexander, Wilkes and Yadkin counties as a member of the N.C. House of Representatives 41st District.
Friends say that early on Holmes had the skills necessary to be a successful politician. He is a "people" person and a hard worker, according to friend and classmate Bryan Houck of Gastonia, former Appalachian board of trustees member and retired Bell South executive.
"George was always a good leader, popular and had wisdom and good judgment," Houck said. "He is highly respected by both parties and has as many Democrats for friends as Republicans," Houck said. "He also is a good student of history and government."
Holmes' years on the appropriations committee allowed him to have a great voice in determining the state's budget, Houck said.
"George has been a steady, loyal supporter of his alma mater," said Chancellor Francis T. Borkowski. "He has done a great deal for his alma mater. Through his very clear support for equity funding, Appalachian and four other universities in the state received their fair share of the education budget. We benefit annually from the increased dollars that the change in the state's funding formula brought to campus."
Holmes was instrumental in the university's efforts to keep its doctoral program in higher education when consultants recommended dropping the program, Borkowski said. "School superintendents and principals lobbied and worked for Appalachian to maintain this program, but George's leadership role in the House had a tremendous influence in our ability to maintain the doctoral program, which is a very critical program for this portion of the state."
Borkowski called Holmes "the catalyst" in securing funding for the convocation center.
"He has been a staunch advocate for Appalachian, and we have obviously made progress with the role he has played in the Legislature," Borkowski said. "There isn't much subtlety on his part about his advocacy for the university. He's very open in saying that Appalachian for years did not have the kind of legislative support it needed."
Holmes was first elected to state office in 1975. He has since served as a state representative continuously since 1979. He was minority party whip from 1981-82 and minority party joint caucus leader from 1983-84. He was senior co-chair of the House Appropriations Committee from 1995-96 and 1997-98, and served on the governor's budget advisory commission for 12 years, including two years as chairman.
He currently is a member of the Appropriations, Insurance, Judiciary III, Public Utilities, Technology, Transportation and the Children, Youth and Families committees, and serves on the Select Committee on the Tobacco Settlement, the Appropriations Subcommittee on Education and the Appropriations Subcommittee on Information Technology.
In 1995 the N.C. Center for Public Policy Research ranked Holmes fourth in overall effectiveness in the House of Representatives. He was recognized by Wilkes County and the Town of Wilkesboro in 1997 for obtaining $4 million in state funds to remove and clean a hazardous waste site.
He received Appalachian's Distinguished Alumni Award in 1995, and in 1996 received the N.C. Senior Tarheel Legislative Award for Exemplary Leadership. Other honors include the Long Leaf Pine Award in 1992, the Yadkin Chamber of Commerce Public Service Award in 1993, the Veterans of Foreign Wars Exemplary Service awards in 1995 and the National Federation of Independent Business Guardian of Small Business in 1997-98 and 1999-2000.